2003 Crown Victoria LX Sport Delayed
Robert Lane
04 March 02
Ford Motor Company Contact: Dan Timmer. 313-337-8606 or dtimmer@ford.com
Ford Motor Company will announce that the 2003 Ford Crown Victoria LX Sport will be delayed due to "engineering requirements" - a new and consumer friendly connotation at Ford that means things are not working out as planned.
Ford introduced the Crown Victoria Sport LX on 04 January 2001 at the Los Angles International Auto Show. The Sport LX features a unique front suspension, 17-inch 5 spoke wheels and improved handling and five passenger seating. The Crown Victoria LX Sport's JOB1 date was scheduled for 03 June 2002.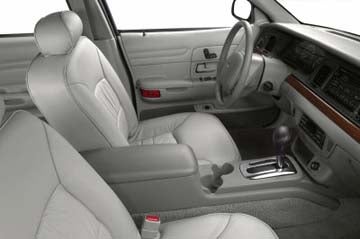 Ford plans to try and reintroduce the LX Sport midyear 2002; although, no dates have been scheduled. The "230A" Crown Victoria LX Sport package will be removed from dealer's order guides by 01 March 2002. All existing orders will be canceled by 01 March 2002 and no new orders will be accepted until further notice from Ford.
Ford recommends dealers order the "200A" series package along with the "41G" handling package. This combination would upgrade a Crown Victoria with 16-inch "Lacy spoke" aluminum wheels with touring tires, dual exhaust, revised springs, stabilizer bar, monotube shocks and rear air suspension along with a 3.27 rear axle ratio.
Overall Crown Victoria sales are slightly down from last year (calendar year to date) from 13,391 units in 2001 to 13,391 units in 2002 - a 2.7% decline.
Visit CROWNVIC.net - and their online forums for Ford Crown Victoria and Mercury Marquis enthusiasts.